Organizing Educational Tours since 1998
The Irish Experience is a program operated by The Irish Experience Ltd and travel agency, Ventresca Travel Agency Ltd.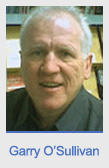 The program was established by Toronto teacher, Garry O'Sullivan, to provide North American students with the opportunity to experience Ireland in a relaxed and enjoyable atmosphere by hiking its beautiful countryside, exploring its old towns and cities and studying its rich history and celebrated literature. Students can also earn high school credits while participating in the program.
Since our founding, over 1,000 students have enjoyed the experience of a lifetime in our program.
Through structured, but relaxed, classroom instruction the students also have an opportunity to earn extra high-school credits. All the teachers are certified by the Ontario Ministry of Education and Training and the Ontario College of Teachers. The credits are awarded by the Toronto Catholic District School Board and are open to all Ontario students.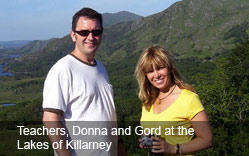 Garry was born in Cork, Ireland. He gained his B.A and Higher Diploma in Education from University College, Cork. As founder and program director, Garry accompanies the students at all locations during their stay in Ireland. As a single country program, we are better able to serve the needs and safety requirements of our students.
The credits are open to all Ontario students who have fulfilled the prerequisites. (please see Our Courses)
Our Priorities
Student Safety. To this end, Irish Experience maintains a chaperone:student ratio of 1:10. All aspects of the program are planned with student safety and welfare in mind.
A Memorable Experience. We provide the students with many varied activities and experiences (see itinerary)
A Great Credit. Our maximum class size is 20. Our average class size is 17.  All classes take place in classrooms on the campuses of universities in Cork, Galway and Dublin cities. The teachers stay in the same complex as students and are available after hours for extra tutoring. We have a fully qualified resource teacher to assist teachers with accommodations in delivery of the program. Our students have access to the internet at all locations. We are the only program offering a 25 day stay in Ireland and 110 hours of instructional time to conform with the requirements of the Ontario Ministry of Education curriculum.
Travel Arrangements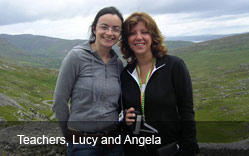 All travel arrangements for the Irish Experience are made through, Ventresca Travel Agency Ltd, 4801 Steeles Ave West, Unit 8, Toronto, ON, M9L 2W1
Ventresca Travel Agency Ltd.. is a travel agency licensed  in the province of Ontario, Canada. TICO Registration No: 1375988
Ventresca Travel Agency Ltd. is a premium travel company that specializes in educational travel for students and adults.
All payments made to Ventresca Travel Agency Ltd. are protected by The Ontario Travel Industry Compensation Fund.
For more information about Vantresca Travel, visit www.ventrescatravel.ca
Contact Information
The Irish Experience Ltd.
4052 Black Willow Court
Mississauga, ON, L5C 3N3
Tel.: (905) 804-9402
For more information, please contact Garry O'Sullivan – Program Director.